About Us
Aqua Art & Engineering is a manufacturer and wholesaler of Effluent Treatment Plants, Egg Washing Machines, Food Processing Machines, Vegetable Washing Machines, and other products. Our company was founded in 2011. Since then, we have been focusing all of our efforts on exceeding the expectations of our clients by offering high-quality products that meet their needs. To maintain good customer relationships, we adhere to ethical business practices and maintain absolute openness in all of our dealings.
We owe our success to our mentor, Mr. Jatin, whose unwavering support and guidance have helped us achieve exponential growth in the present industry.
Why Us?
We have developed a firm footing in the industry due to our exceptional product range. Our products are compliant with industry requirements and are available at the most competitive pricing. Our specialists devote their long working hours to creating products that are tailored to the specifications of our customers and fulfill their particular needs.
The following are some of the reasons that have boosted our success:
On-time delivery
Quality tested product range
A large distribution system
Extensive industrial knowledge
Options for customization
Our Infrastructure
We have a manufacturing system that helps us timely produce and deliver products like Effluent Treatment Plants, Food Processing Machines, Egg Washing Machines, Vegetable Washing Machines, and so on. Our quality inspectors test the manufactured products before dispatch. Our packing is also outstanding, ensuring that our product range reaches the buyer perfectly.
Brands We Work With:
Aqua Art & Engineering
DeVilbiss
Nidek
Philips, etc.
Our Quality Control Procedures
We create ozone generators for water and air filtration alongside wastewater treatment systems. We have a lot of experience in building and maintaining high-limit ozone generators. We have been selling our ISO 9001:2015 and CE certified products to customers around the nation. Our focus stays on product development. Therefore, we constantly upgrade and improve our range for our valued clients. Our water treatment solutions are of the highest quality. Thanks to new technology and efficient manufacturing methods, they have a long service life. Our slogan guides our work, that is, Select Quality In Purity.
Our Mission
Better well-being and health for all people everywhere, today and in the future, is the sole mission of our company.
Our Vision
We will deliver outstanding value and quality in our products and improve the lives of people across the world.
Our R&D
Our R&D team has extensive experience, which aids in the development of cutting-edge products. Our R&D experts strive for constant improvement to provide application-oriented products that assist our valued customers in meeting their demands.
Our Team
We are taking the services of a brilliant group of experts that puts in a lot of effort to learn about the needs of our clients. Our team members maintain continual contact with clients to meet their specific requirements for Effluent Treatment Plants, Food Processing Machines, Vegetable Washing Machines, and other items.
The following are some experts who collaborate with us:
Engineers
Quality Control Analysts
Skilled Technicians
Marketing and Sales Executives
Semi-Skilled and Skilled Workforce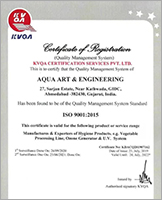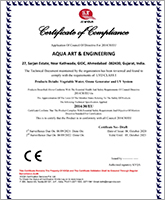 Read More